Help save the heritage of offshore multihulls !
Welcome to the site of GOLDEN OLDIES MULTIHULLS, an association aiming at saving the offshore multihulls who were the stars of the 60s, 70s and 80s and fuelled so many of our dreams.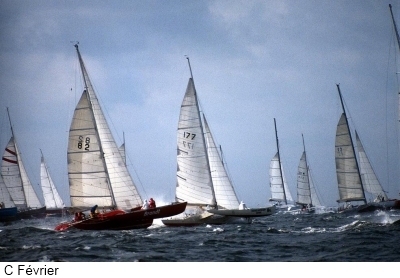 Golden Oldies Multihulls
The life of racing multihulls is paradoxical! They were coveted; they justified many sacrifices, now they are abandoned, forgotten or clumsily transformed into waterbuses for tourists. Their destiny is often destruction or sinking.
They helped writing the most hairy pages of offshore racing history. Their grace, their balance created a durable link with the public and –in France at least- elevated their skippers to the rank of social idols. These boats in a hurry have created a heritage in less than 40 years, bred in courage, audacity and human genius –but these ephemeral creations are fragile.
The future of these long distance birds is not the museum, but a « conservation spirit ». They must sail. Multihull fanatics know that these old timers are in danger! Their sport and architectural testimony is precious.
Since ten years, conservation initiatives were taken in France, Britain, Spain, the USA… In 2005 and 2006, a handful of multihull lovers decided to bring together some of these boats in demonstration races. The first two meets were spontaneous and popular successes. Since then they have grown in scope and importance. Such participants as VSD (1st Lorient-Bermuda-Lorient 1979), Moxie (1st, OSTAR 1980), Umupro Jardin (1st OSTAR 1984)… have created a magical osmosis around which was established the Golden Oldies Multihulls Association. It supports and federates individual actions to protect the heritage of historic offshore multihulls.
Dick Newick, Derek Kelsall, Kenneth Beken and James Wharram have accepted to be the godfathers of this association of stubborn lovers who don't want these boats to die.
| | | | |
| --- | --- | --- | --- |
| | | | |
| Richard Newick | Derek Kelsall | Kenneth Beken | James Wharram |
The objectives of the Golden Oldies Association
To promote the recognition of the heritage –in sport, architecture or history- of pas multihulls.

To research and document these multihulls.

To encourage the protection of the most interesting boats.

To encourage actual and future owners of these boats, and those who love them, to exchange their experience and knowledge.

To encourage help exchanges between all the actors and favour the implication of institution such as sport or professional federations.

To impulse sailing meetings in order to maintain the strong links between the public and the boats and their skippers.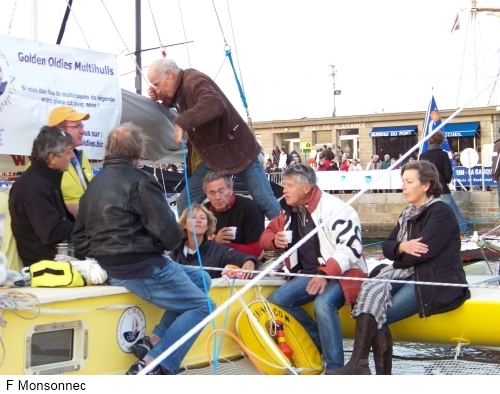 Anne & Paul Buttin, Hervé & Francine Cléris on ATN, start of the Route du Rhum 2010 with Mike Birch, Etienne Giroire, John Franta, Francois Saulnier
Every year, the Golden Oldies Association organises meetings
A Golden Oldies Trophy in the Mediterranean in May

An Atlantic meeting, which is currently being developed.

Golden Oldies Trophy 2008, port of Meze, Babouche, Moxie, Rebel (Umupro-Jardin)...
What is a Golden Oldies boat?
All multihulls, or their exact sister-ships, designed or modified before January 1st 1988, for offshore racing, speed records or raids.
Boats outside this definition may obtain an exceptional approbation.
For boats posterior to 1988, a « Silver » class has been created.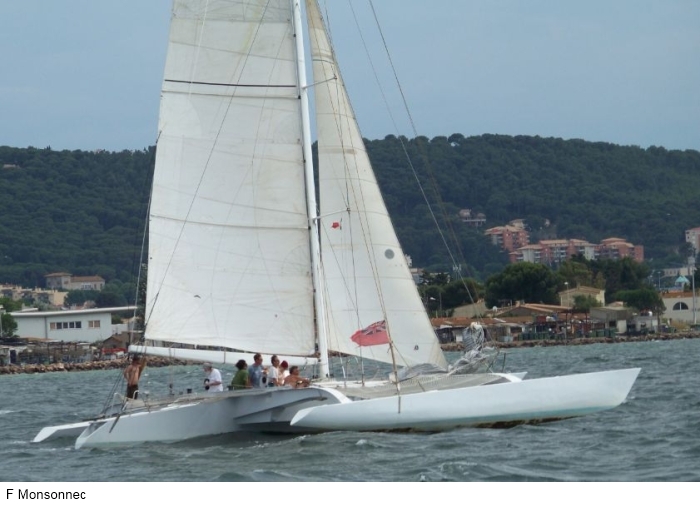 VSD, Golden Oldies Trophy 2009, at Balaruc
And also
You will find in « La flotte » the member's boats.
Under the heading « Rassemblements » are the pictures of the successive Golden Oldies Trophy.
And feel free to view our "Videos" (& the Cross média) and the page "Documents" with articles in French and English !
Do not leave without visiting the page "Tribute to Dick Newick"
You can join the association through Paypal !
But don't forget to send the membership subscription to the association (see email above).
To contact us, click on "Contact"
©GoldenOldies/photos de sources diverses.